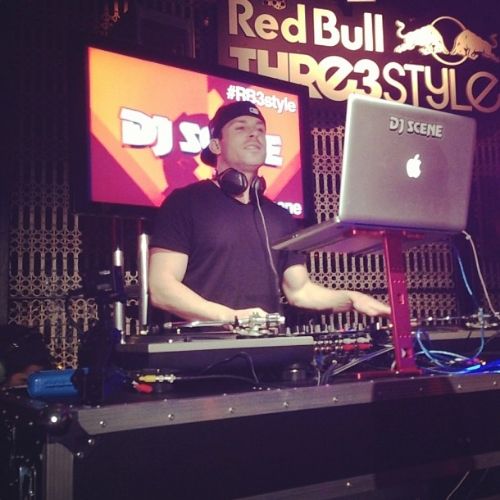 Red Bull Thre3Style gives highly skilled DJs a global platform to showcase their skills, battle and gain notoriety by rockin' the dance floor. Crowd reaction, technique and the art of party rocking are what makes this the new school DJ contest. DJ's are judged on track selection, creativity, mixing skills, stage presence and crowd reaction. Each DJ gets one 15 minute performance where they have to play a minimum of 3 genres. Anything goes – from house anthems to old school hip hop to Top 40 remixes.
DJs from the U.S. Regionals will come to LA this Friday April 5th to battle for the coveted title of Red Bull Thre3style National Champion – a title that comes with bragging rights; cash prizes; a stamp of approval from some of the best DJs in the world including DJ Jazzy Jeff, Z-Trip and A-Trak; and a ticket to compete in the Red Bull Thre3style World Finals in December.
We had a chance to sit down with one of the finalists DJ Scene and talk to him about how he got his start DJing, prepping his set for the battle, traveling, late night food and much more. Read the interview after the jump. And stay tuned for our interview with another finalist DJ Konflikt tomorrow.
Tell us a little bit about yourself and how you got started DJing?
Well, I'm DJ Scene… I grew up in Seattle and got started by entering every DJ competition I could imagine from Guitar Center to DMC. From there I started DJing clubs around town, then moved into
commercial radio and satellite radio. That's kinda the quick background.
Did you play an instrument before you started DJing?
yep! I started out on trumpet then learned to play guitar and drums. I still play drums today.
What is the first album or single you ever bought?
I bought the INXS "Kick" album out of a cassette vending machine in a drug store simply cause of the fact that it had a Vision Street Wear skateboard on the cover.
Your go to song to rock any party?
I can't remember a time "Be Faithful" ever bummed anyone out.
What kinda of music do you listen to when your not DJn?
It's all about mood. I might be listening to Wu-Tang on the way to the grocery store, then Frank Sinatra on the trip back.
How do you organize your serato crates?
They're a mess! Al tho two main ways I organize them is by 'feeling' and genre
Do you re-edit the songs in your sets or use a lot of cue points?
Most of the time I just use cue points. It forces me to do the work and add little scratches and details live.
What are some of the things you've done to prepare for the Thre3style competition?
Listen to endless amounts of music, new and old…. and work on my lawn. I've been trying to get this thing looking like a golf course.
What are your favorite cities to play and why?
Outside of Vegas…I've never had a bad time in Boston. Every time I'm there it's a complete blast. So much energy!
Outside of DJn what are some of your hobbies?
I like working on my landscaping. It's another form of art.
Biggie or 2 pac?
haha I should say Pac cause I'm from the west….but I always liked Biggie a bit more. Probably cause of his production. Biggie had Premier!
Coachella or Lollapalooza?
Insert Coins, Freemont Street Las Vegas
After the club in LA do you mess with the bacon wrapped hot dogs?
Hellllllll no. Street meat? noooooo
What would you do with the money you win from Thre3style?
I'd really like to help my wife take some graphic design classes. It'd be fun to design some stuff together.
Who's your favorite editor on DMS?
I usually try to grab things that Spryte puts out. K.Scott always has heat too!
For more information about DJ SCENE check the links below.