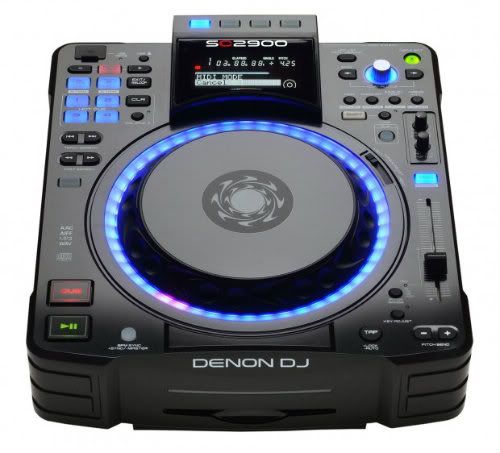 DENON PRESS RELEASE –
"Denon DJ SC2900 marks a revolution for Professional, Club and Studio DJs by bringing Denon DJs first ever static-platter controller and media player combining the ultimate in ground-breaking design and the highest in industry-standard quality. Designed with both Professional and Club DJs in mind, the Denon DJ SC2900 steps-up to the booth with a fresh take on true digital-media versatility. No longer is there a need to struggle dragging a mass of CDs to the club or through the studio doors – the SC2900 includes playback from USB drives and offers the ability to share one USB stick over (up to) four networked Denon DJ SC2900 or SC3900s. However, traditional CD DJs and producers can still make the most of the front mounted CD slot, and pure software DJs can utilise the Traktor 2 compatibility* to mix and produce. 'ENGINE inside' ensures compatibility with ENGINE software – a unique combination of software and hardware that empowers todays DJs with high speed access and control over their extensive digital music libraries. Leaving the ENGINE software to manage the set from a USB connected, or networked, PC or MAC and the hard work down to the player itself – reducing the need for a super-powerful computer to manage the DJs performance." Read the rest of the press release HERE.
Do you think this controller is good enough to take any of the cd/controller market away from Pioneer? Let us know in the comments what you think and check out a teaser video after the jump.
*This video isn't live performance of the new Denon DJ SC2900 Digital Controller & Media Player but it gives you an idea of what it is. A full performance video will be available soon.