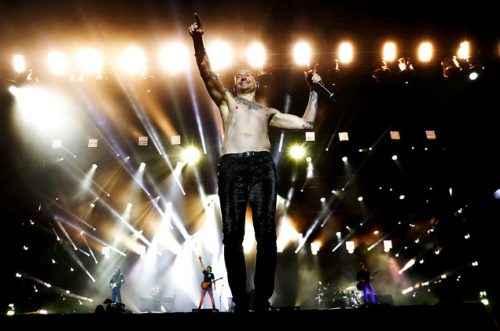 Linkin Park frontman Chester Bennington has committed suicide at age 41. TMZ first reported that Bennington hanged himself at his Palos Verdes residence on Thursday, July 20, after which the L.A. County coroner confirmed to Associated Press that Bennington had died. Linkin Park bandmate Mike Shinoda tweeted "shocked and heartbroken, but it's true. An official statement will come out as soon as we have one."
Bennington struggled with drug and alcohol addictions at various times during his life. He spoke openly about both, as well as about being molested by an older man when he was a child. Bennington was married and is survived by six children.
Linkin Park's massively popular 2000 debut, Hybrid Theory, introduced the world to their immaculately produced hybrid of alt-rock, metal and rap. Its follow-up, 2003's Meteora, became the first of the band's six chart-topping albums. Over the course of seven studio albums and a collaborative EP with JAY-Z, Linkin Park established itself as one of the biggest and most influential rock bands of the 21st century. The band has sold 27.8 million albums in the U.S., according to Nielsen Music.
Their biggest Billboard Hot 100 hit, "In the End" from Hybrid Theory, peaked at No. 2 in 2002. "Numb" from Meteora hit No. 11 in 2004, "What I've Done" reached No. 7 in 2007, "New Divide" peaked at No. 6 in 2009 and "Shadow of the Day" earned a No. 15 spot in 2008.
In addition to Linkin Park, Bennington formed Dead by Sunrise in 2005, who released one album, Out of Ashes, in 2009. Bennington teamed up with Stone Temple Pilots after Scott Weiland's departure for one EP, High Rise, in 2013.
DOWNLOAD ON DMS