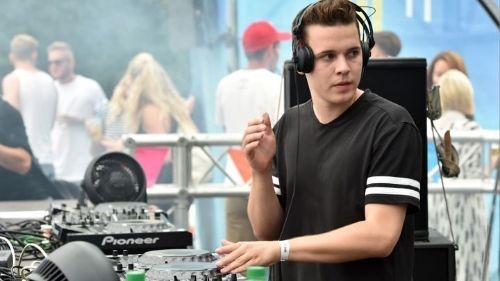 At only 20 years old, German producer Felix Jaehn has the Number One song in America — but the track, his remix of Omi's "Cheerleader," also went Number One in Germany, the United Kingdom, France, South Africa and well near the entire world. Jaehn was already gaining attention in the electronic-music world with various bootlegs and remixes, but it was his take on the Jamaican singer's 2012 song that propelled both him and Omi to international fame. A melodic-house producer, Jaehn gave the song a slight pop and EDM push that made it palatable to a global audience.
Jaehn's second single, "Ain't Nobody (Loves Me Better)," a cover of the 1983 Rufus and Chaka Khan hit with London singer Jasmine Thompson, already landed at Number One in his home country, and is set to spread across the rest of Europe — and potentially the States. We caught up with the exploding producer, still across the Atlantic before he embarks on his first U.S. tour next week, to talk about his year of whirlwind success.
Read the interview after the jump
What was your introduction to music?
When I was five, I played the violin. I played the violin for seven years, and I played in a youth orchestra. Then, when I was 15, I got into electronic music through DJ'ing.
When you first started making music, were you just by yourself or were you playing live shows?
When I started to do my own songs, I was already DJ'ing, and I wanted to take it to the next level with my own production. I downloaded Logic and started fiddling around with it. I had the music theory from the violin, and I got myself a MIDI keyboard and taught myself the basic piano skills to play some chords and record stuff. I started like that and after finishing school, I moved to London for a year and I actually studied music at Point Blank [Music School]. I studied music production, music composition and sound engineering and a lot of different stuff, and that's where I got the basis of everything, really.

What were some of the songs you released that got traction?
I think that was a bootleg of Tom Odell's song called "Another Love," so I started remixing songs by artists that I like without having to commission, because I didn't have any context or profitability with it. Then I had my first [release] called "Sommer am Meer," it's German for "summer by the sea," and that was released on a small label from Hamburg. Then it started growing online, and then I had a song called "Shine" that [hit Number One on] Hype Machine and went through all the blogs. That's also when I got my record deal with Universal.

How did you come across the original version of "Cheerleader"?
I was contacted by the record label Ultra Music. I was talking to them generally, because they liked my stuff and they sent me the song. I thought it was a really good song right away. I just felt the vibe and the emotion, so I wanted to do something with it. So I asked them to send me the a capella of the vocals, made it faster and essentially built the entire track around it.
How long did it take for the song to start getting big?
That's actually really weird. If you think that the original song is from 2012 and I produced the remix in January, 2014, and it was released in May, then it took ages. October, in Sweden, it was the first to top the charts, then early 2015 it started growing in Europe — Germany, Austria, U.K., everywhere. And now we have July, August already, and it's taken America, and it's still growing in many countries. It's kind of crazy how long it takes for a song a song to find its way.

My current single, "Aint Nobody," was already eight weeks Number One in Germany and it hasn't even really yet started in the United States and other countries. Actually [I] think it's quite weird, because you'd imagine that everything is connected worldwide and happening at the same time. But it's still happening at different times with different countries.
Are you prepared to be performing in front of larger and larger crowds?
Yeah, definitely. The crowds are growing week-by-week, essentially, and I'm mostly excited about coming to America, which is going to be next Tuesday. It'll be my first time touring the U.S. The crowds are getting bigger, and the places are getting more exciting.
Do you have any more collaborations in the works?
I'm always working on a lot of new music, but right now, my main focus is my own studio album, which I'm writing at the moment. There is nothing really concrete or planned yet for featured artists. I did some remixes for Giorgio Moroder, Sia and Ed Sheeran just recently, which was a great thing and honor.
Have you met Omi yet?
Not yet, unfortunately. Just recently I dropped him a message and he sent one back via a radio station in Germany because they both had us on the phone. So I kind of talked to him via radio station, which is insane. We really have to make that happen. But he's got a lot of stuff to do right now and I also do, and most of the time we're at different places of the world, so it's hard to make it happen. Eventually it will, I guess.
DOWNLOAD ON DMS