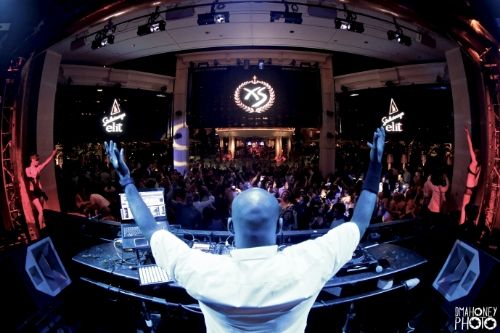 In our latest exclusive DMS interview, we talk with DJ Warren Peace, a true pioneer of Las Vegas Nightlife for the past few decades, as well as the co-owner of Direct Music Service & a stand up family man. As head resident DJ at XS Nightclub in Las Vegas, widely regarded as one of, if not the best nightclubs in the world, Warren has had the unique opportunity of playing beside all of the big names in the music world from Tiesto to Deadmau5 to Avicii to Calvin Harris to Steve Aoki just to name a few. In this exclusive DMS interview, Warren talks about how the EDM boom started in Vegas, where music & clubs are headed next, his roots & accomplishments and how he keeps his music organized to always stay fresh.
Check out the interview and pictures after the jump.
How long have you been DJ'ing and how did it all start?
I've been DJing for over 30 years. I use to go to the grocery store with my mom and instead of asking for Candy I would ask for 45s from the record store next door to the grocery store.

Warren Peace & Dave Fogg in the early 90s
What was your first record you bought ?
"Disco Duck" 45rpm (1976) .. Look it up HERE
What is it like to DJ at XS, one of the biggest & most prestigious clubs in the world?
DJing at XS is truly a dream come true. But I am most proud of creating the format for XS that started the whole EDM craze in Las Vegas. Before XS, most DJs were playing mashups and Fat Man scoop party breaks in major nightclubs. Myself and Dave Fogg were doing a House radio show on a local radio station and we had an idea and the balls to push a format that was 80% EDM and 20% Hip-Hop at XS. The rest is history.
XS has a lot more competition this year than it has in the past. What are some of the steps it's taking to stay ahead?
When XS started bringing in big name DJs/producers I had done most of the research years before because of the house music radio show. I knew what was hot and knew what would work on the dancefloor. So I basically kept this strategy in place. I try to stay 16 months ahead of the popularity curve and I do a lot of research and digging for music. I also regularly stay in contact with major big name DJs to stay in the loop.
The next trend will be Dance music losing its staple of a 128 bpm and DJs moving around from 70-140 bpm (trap, twerk, moombahton, house, drum & bass). You can already see it with guys like Laidback luke, Lil Jon, Chuckie, Afrojack and especially Diplo. The DJ that stays and 128 with one "sound" will be perceived as boring. This isn't Ibiza… This is Vegas.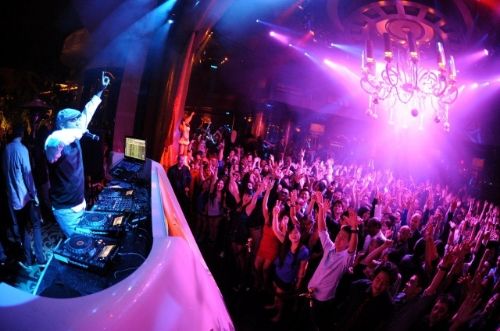 What prep work goes into planning an opening set for Tiësto or Deadmau5?
When I research and dig for music I tag EVERY track with multiple tags. My tagging system rates music on energy, momentum, particular sound (ie. soulful, vocal, funky, pool party, Latin, progressive , minimal, techy, etc.) and also Artist Sound [what artist does this track sound like?]. When I have a gig with any artist or any type of club all I have to do is type one or two different tags and I'm ready for the party. I can then sort those tags in any order (key, date added, artist sound, rating etc.) No extra planning needed. This system also allows me to sound different every time and not be locked into any pre-made playlist.
The analogy I like to use is I'm a chef with kitchen full of labeled ingredients and I can make everything and anything… versus having a few TV dinners ready to go. Both ways will get you fed but one way gives you more flavor.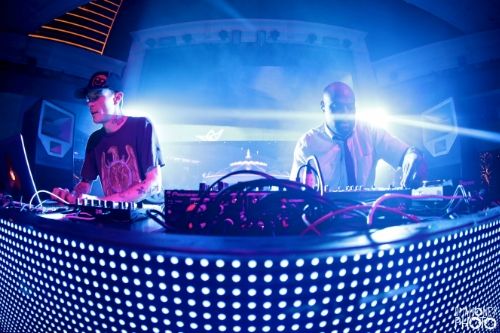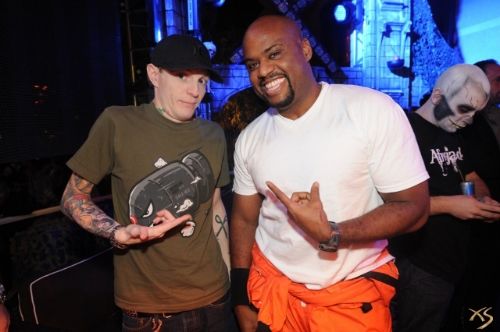 Which DJ is your favorite to watch live?
Wow, I have a few:
Afrojack and Chuckie – great technical DJs – REAL DJ SHIT!
Aoki – Crowd reaction is UNREAL!
Diplo and Lil Jon – Great crowd reading and selection
Fedde Le Grand – Lays down a groove that is like no other… non-stop head nodding
Which other countries have you played in?
Mostly Asia (Taiwan, Singapore, China, Hong Kong, Macau, Malaysia) & Australia (Sydney, Melbourne, Brisbane, Adelaide, Cambra, Broome & Perth) and also Mexico.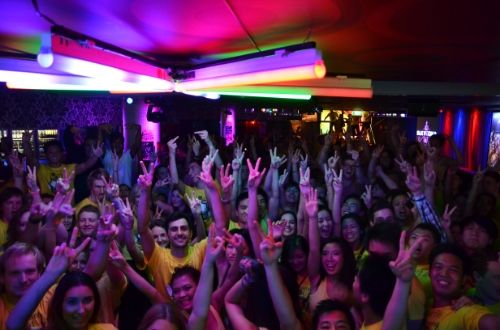 What were some of the big songs oversees where you played?
The hits overseas are the same hits in the USA. The only thing different is the crowd reaction.
What producers are you feeling at the moment?
Nom de strip , keys and Krates, Federico Scavo, Alvaro DJ E-Clyps (funky as shit!) and Chocolate puma
Tell us about "The Spaceship" set up?
Hahahahahaha… I get so much shit about my setup! My buddy DJ Fabian calls me "Radio Shack" . The spaceship consists of:
-2 to 3 Midi controllers (Launchpad, Korg Nano pad 2, Akai LPD8-rarely)
-17inch Alienware laptop – all the bells and whistles
-3 CDJs (YES I USE ALL THREE)
Running programs:
-SSL – with The bridge and DJFX
-Ableton
-Kueit
-VLC player for porn during long sets.
YES I use ALL of this! If you really want to see it in action you have to come watch. Really too much going on to type it all out. The reason I use it all is because I like to "remix" or add "color" to my mixes and tracks as I play them.
It may seem like a lot but if you were painting a picture would you like to have the box of 8 markers or the box with 256 markers. Its all about having the ability to change the music to whatever you feel and whatever will please the crowd.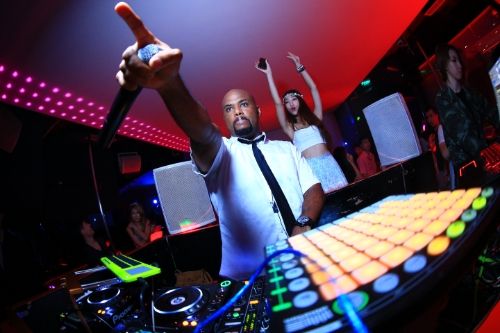 Where do you see club scene headed in the next few years?
Clubs will start to market their own brand better and push their own talent more vs. bringing in big name DJs to draw crowds. This only makes sense. You have to spend money on your brand instead of on DJs that have a "perceived" following. Out of town / big name DJs are great for branding and image but most clubs cannot afford to pay for this branding weekly.
When people come to Vegas to party they already know where they want to go because of brand loyalty. The DJ that is playing is second to the club brand and its image.
What's the best event you've ever played at?
There have been far too many at XS. Playing with Deadmau5, Afrojack, Tiesto, Steve Aoki, etc. But one of my best moments DJing was doing a wedding in Wells, NV. I played disco, Classic rock and 70s soul for ranchers, farmers, and "small town folk" and KILLED! I still get calls from cowboys asking me to come back and play parties for them. Imagine DJing at a wedding for Aerosmith, Earth Wind and Fire, Queen and Van Halen and having the band members going crazy to the music they grew up on mixed in a way they have never heard before.
When all the partying is over how do you like to chill out?
I listen to A LOT of classical music and coach my kids in their sports. I don't have time to be the team coach but I show my kids the proper techniques for their sports and push them. That's called frustration and relaxation… fruslaxtion!!!
Last question??? What are your most proud moments in your Career?
I am most proud of the fact that I have been able to stay on top of every music trend and stay relevant for so long.
– Award winning days on college radio and then commercial radio.
– Key DJ at Club RA, one of the first mega clubs in Las Vegas and the first to embrace hip-hop.
– Owning and operating the World's largest hip-hop store online and brick and mortar – HipHopSite.com
– One of the founding members of the Inhumanz, creating some of the biggest mashups of all time.
– Vibrate radio on KLUC Las Vegas. It was a 3 hour house radio show lasted 8 months and was like no other.
– Creating the format at XS that opened the doors for most of the major Las Vegas nightclubs
– DMS the best record pool on the web.. PERIOD!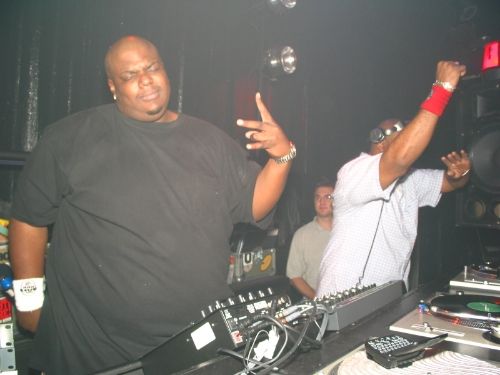 For More Information on DJ Warren Peace check out: